Why Omeida?
Professional teaching staff
Our Chinese language teachers are all college graduates with degrees in teaching Chinese as a foreign language, and have extensive experience in teaching Chinese. The difference between us and other schools is we guarantee you will be taught by a professional language teacher as well as being a native speaker. Our staff knows how to break-down Chinese into simple, learnable segments to suit all skill levels, ages, and learning types.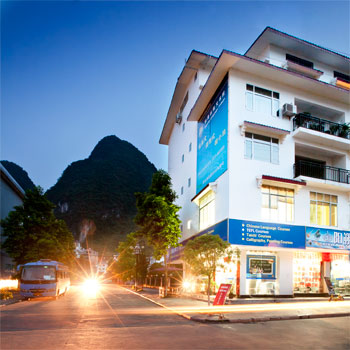 Proximity with Chinese students studying English
Omeida has two schools: a Chinese school for foreigners and an English school for native Chinese students. The two schools live and study on the same campus, allowing for endless opportunities for interaction and cooperation. This serves as an excellent bridge for enthusiastic students to meet and help one another learn each other's native language. Though each school focuses on a different language, both are filled with students that share a common goal and have the skills to help one another meet that goal.
To even further encourage interaction between our two schools, we've developed a "language partner program" which provides our students with free, 1-on-1 tutoring with native Chinese speakers learning English. It's an excellent time to get help with your homework, review core concepts of the days lessons, or simply hangout and practice your Chinese.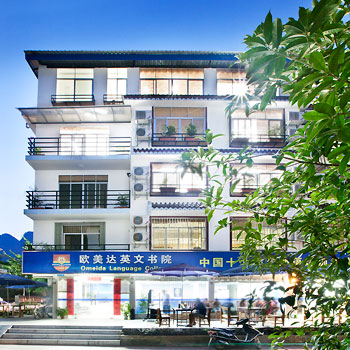 Inexpensive, comfortable lifestyle
At an affordable cost, you can choose to have your fees cover the cost of your housing and meals along with your Chinese classes. If not, the town of Yangshuo still provides comfortable living as well as quality Chinese food and Western food at a fair price.
The affordability of Yangshuo also helps us keep our courses reasonably priced. Schools situated in larger cities may have similar curriculum, but the cost will always be significantly higher because operating is so much more expensive in large cities.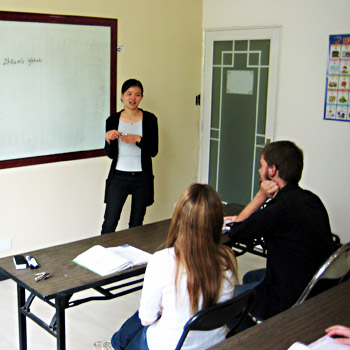 Incredible location
Our school is situated in one of the most beautiful regions of China. Surrounded by an endless landscape of southern China's famous Karst hills, Yangshuo is a famous foreigner-friendly travelers' destination. The town is small, clean, an excellent source for almost any Western comfort, and a hub for all sorts of guided and unguided outdoor activities (cycling, rock climbing, bamboo rafting, kayaking, hiking, etc.).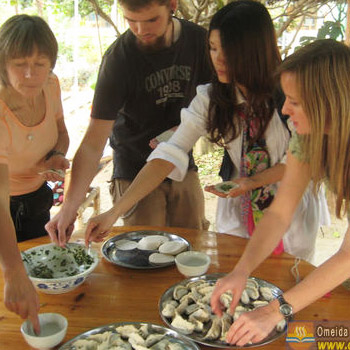 The main draw to this area is the beauty of its surrounding scenery. The region is defined by its tall, steep hills that are intimately dispersed across the landscape of beautiful winding rivers. Those who haven't heard of Yangshuo have certainly seen it represented in traditional Chinese ink paintings. Yangshuo is a truly captivating place, and it's free for our students to go out and explore.
Cultural-immersion activities
Several times every week, we provide our students with extracurricular opportunities to become further immersed Chinese culture. In any given week, we'll have some sort of social night where we do group activities with Chinese students learning English and a Saturday outing where we do something around Yangshuo or the nearby countryside. Once every two weeks, the Chinese Academy has a cultural event where students will learn some unique piece of Chinese culture (calligraphy, taiji, tea-making, and many more). Outside our regular activities, your experience will also be enriched by holiday celebrations, monthly class dinners, and everyday interaction with native Chinese students.
Our goal for each activity is to keep you completely immersed in the Chinese language and culture. We're giving you the tools to to as far as you want.