Accreditations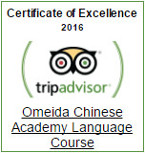 Trip Advisor
TripAdvisor Certificate of Excellence award now in its third year, the award celebrates outstanding hospitality from bakeries to Michelin star restaurants and hidden attractions to world-renowned parks and museums that have received praise and recognition in reviews by TripAdvisor travellers. We at Omeida Chinese Academy are proud to announce in 2016 have been recognised and been awarded the Certificate of Excellence and with only 10 percent receiving this prestigious award we are very honoured. Thank you to all our hard working students and dedication from our teachers! Keep up with your study!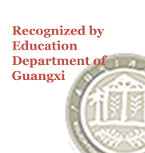 Education Department of Guangxi
Yangshuo Omeida Language College (to which we Omeida Chinese Academy is affiliated) is the first, and at the moment the only private language school approved by the Education Department of Guangxi Zhuang Autonomous Region to recruit and teach foreign students Chinese language and cultural lessons. We can help our longer term students get JW202 form to apply for student (X1) visa and residence permit to study in Yangshuo.

CSN Sweden
CSN approves and sends out Swedish financial aid for studies, which includes both grants and loans to students in Sweden and abroad. In 2014, with support from Blueberry World Wide, we have been accredited to work with students and are happy to continue with our relationship with CSN in supporting students with their Chinese studies.

Bildungsurlaub
The official Bildungsurlaub, educational leave, recognition of a school guarantees high quality language courses for students from all over the world. Our Chinese language courses have been officially checked to meet the standards of professional teaching which is valued by students of all ages. Thus, the accreditation by Bildungsurlaub offers a piece of mind when studying with us and in 2014 we were officially accredited.

Lonely Planet
Lonely Planet one of the world's most successful travel publisher, with 120 million books in eleven different languages, with its award-winning website we are sure there is no need for any further introduction. Based globally around the world helping many travellers start their adventures, Lonely Planet is still driven by the philosophy: 'All you've got to do is decide to go and the hardest part is over. So go!' Proud to be recommended by Lonely Planet way back in 2011...why not follow that philosophy and explore China with Omeida Chinese Academy.