School Activities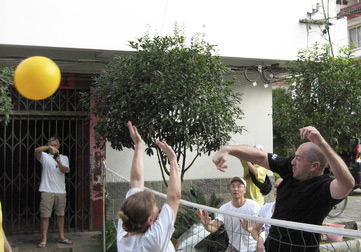 Omeida Chinese Academy offers a variety of regular activities for you to participate in. This is a great way to meet new people and practice your Chinese skills in a fun environment.
Daily Activities
Daily after school activities include volleyball, basketball, foosball, and video nights. Every Thursday night we have our"social night." It is free for students to attend and includes activities such as BBQs, cocktail nights, competitions, and games. Food and drinks are provided.
Cultural Activities
Every two weeks, there is also a free cultural activity for you to learn about traditional Chinese practices. The cultural activities include classes for Chinese Calligraphy, Chinese Cooking, Kung Fu, Tai Chi, the art of tea-making, and paper cutting. These classes provide you with an excellent opportunity to practice your Chinese language skills in real-life situations and learn more about China.
Saturday Outings
Every Saturday,we have an organized day-long outing that students are welcome to attend. This typically will be either a sightseeing tour into the surrounding countryside and nearby villages or activities such as bike riding, caving, rafting, or hiking (lunch is normally provided). There is a small charge to participate in the weekend excursion, usually between RMB20-80.
You can view our past activities below