Meals
On Campus: "The Canteen"
The school canteen is open for lunch and dinner Monday-Friday, providing the school with traditional, family-style Chinese meals (dine-in or take-away). For our all-inclusive students and volunteers, all meals at the canteen are included and tuition-only students are charged 11 RMB (approximately $1.8 USD) per meal.
These meals typically consist of soup or porridge, rice, and a shifting variety of meat, vegetable, egg, and tofu dishes. The canteen serves lunch at noon and dinner at 6pm.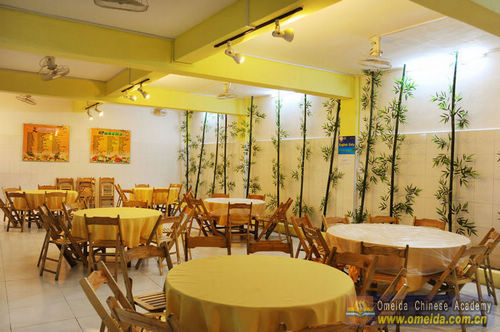 Off-Campus
Students are responsible for their own breakfast as well as all meals on weekends. The town of Yangshuo provides students with many nearby restaurants, bakeries, supermarkets, and street-food at all times of the day. Just outside of Omeida's campus, there is a very wide variety of traditional Chinese food that is all served at a very affordable cost.
Just a 15 minute walk away from Omeida is also the famous "West Street" which will satisfy just about every foreign appetite. West Street has a very high concentration of western-style restaurants, bars, and coffee shops, so if you're looking for a burger, pizza, pasta, steak, fries, a fresh cup of coffee, or just about anything else you can think of, it's probably going to be somewhere on West Street.