Payment Information
Deposit and Program Fees
There is a $200 USD deposit which must be paid in advance to secure your position in class. Please kindly note the deposit is not refundable. It can be paid through PayPal, wire transfer, or Western Union transfer*. Bank charges are the participant's liability; it is advised you check with your bank what fees are involved. If there is no relationship between your bank and Bank of China an additional fee (up to $25 USD) will be charged by a third party bank. The amount received in our bank account is considered the deposit amount and will be deducted from the program fee to be paid after the deposit.
Your remaining program fees can be paid in advance with any of the following options:
Kindly note that there will be possible commission fee involved: Paypal 4.55%, credit card 2.5%, wire transfer 1%~10% (depending on the bank).
PayPal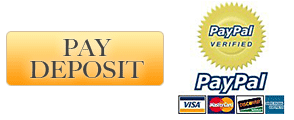 You can make a manual PayPal payment, if you like. Our PayPal address is, info@omeida.com.cn
Wire Transfer
Bank Details:
Beneficiary Name/ Account Holder:

OU DA (欧达)

Account No.:

4563 5126 0068 1114 402

Bank Name:

Bank of China, Yangshuo Branch (中国银行 阳朔支行)

Swift code:

BKCHCNBJ49C

Address of the bank:

Bank of China Yangshuo branch, Longyue road, Yangshuo, Guilin, Guangxi, China (中国广西桂林市阳朔县龙岳路)

Note:the deposit receiver is OU DA (Surname: OU), not Omeida or Omeida Chinese Academy.

Pay by Western Union Transfer

The information for Western Union Transfer is as follows:
Receiver's Name: Da Ou(Note:first name:Da, last name:Ou, in Chinese 欧达)
City: GUILIN (桂林)
Country: CHINA (中国)
The exchange rate for $US to RMB will converted used the daily exchange rate at XE.