Why Yangshuo?
Yangshuo is an excellent place to come and study Chinese. The people here are friendly and eager to share their language and culture, the landscape has endless opportunities to explore, and the town's western tourism creates a comfortable, familiar atmosphere for international travelers.
The Landscape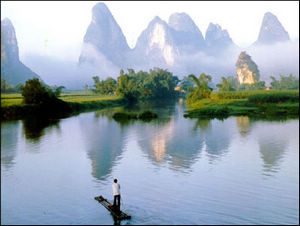 Yangshuo is a small town pocketed within arguably the most beautiful region in China. If you've seen this area once, then you will know why; the landscape is endlessly scattered with steep hills and winding rivers that are a common subject of traditional Chinese ink paintings. By definition, the region is scattered with "karst" hills which are tall, narrow outcroppings of limestone that have been grown over by the region's abundant vegetation. Historically this region's beauty was iconic in Chinese culture, which is today visited by tourists who want to get a glimpse of such preserved natural history.
Outdoor Activities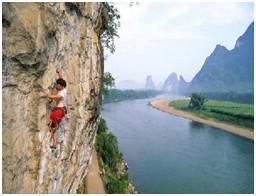 The unusual terrain surrounding Yangshuo today attracts a wide spectrum of outdoor enthusiasts. Among the many outdoor activities to do in Yangshuo, rock climbing has become the clear highlight. The steep limestone cliffs that surround the karst hills have made Yangshuo the top destination for rock climbing in China and one of the best in the world. Yangshuo is also a popular place for backpacking, mountain biking, and many other outdoor activities. At Omeida, students will often spend their afternoons and weekends out in the countryside doing activities such as swimming, barbequing, bamboo rafting, and cycling along with Yangshuo's main outdoor attractions.
The People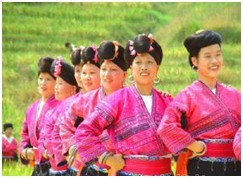 Despite its rapidly growing presence in global tourism, Yangshuo still doesn't feel like a very urban place. Yangshuo is in such a densely packed region of overhanging cliffs and hills that it will always be comfortably confined to the size of just a town. The rural atmosphere helps preserve the local hospitality, making Yangshuo a very helpful place for practicing Chinese. The locals have developed patience with foreigners passing through and have developed an appreciation for those that take the time to practice the language. The friendly atmosphere of Yangshuo adds constant opportunities for students to improve upon their language skills outside of the school.
Western Culture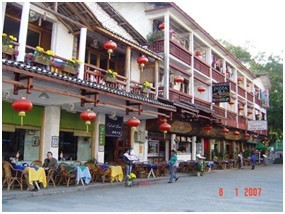 Yangshuo has experienced an unusual amount of international exposure for such a small place; the town provides many western amenities that you will typically only find in China's largest cities. The heart of this exposure is on Yangshuo's West Street (Xijie), where there is an endless selection of western food, bars, hotels, shops, and outfitters. Though we encourage our students to remain immersed in Chinese culture, West Street is a wonderful area to find some comforts from home.
For more practical and detailed information about all the most scenic, cultural, active or relaxing activities in Yangshuo check out the Yangshuo-Insider guide.