Yangshuo Activities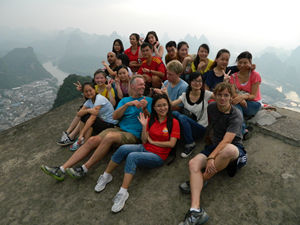 The wonderful thing about Yangshuo is that you can't expect to come here and run out of things to do. Here are some of the more popular things to do, but if you're creative, you can find just about anything to do around here.
Rock Climbing
The outdoor community in Yangshuo primarily exists because of rock climbing. The limestone cliff faces that surround the karst hills are perfect for rock climbing. Over the past 20 years, Yangshuo has established itself as Chinas top location for rock climbing, and globally is easily one of the best. Omeida students often hire a guide, rent gear, or even supply their own gear to go out and climbing. The rocks are free to use as long as you have some gear and some experience with you.
Swimming
During the hot days in Yangshuo, students will make trips down to one of Yangshuo's many large calm rivers and go for a swim. Just within 15 minutes of the school, there are several great nearby locations for students to go swimming.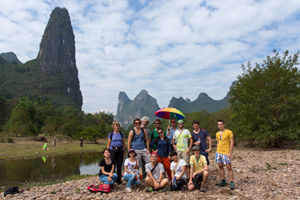 Barbequing
Buying some meats and vegetables at the nearby market and then riding bicycles out into the countryside for a barbeque has become a popular pastime for the international local community here. The food at the markets is always extremely cheap, bicycles are easy to rent, and there are many great places nearby to go out, set up a fire, and cook some dinner. Barbequing is a great, cheap way to go and spend an afternoon or evening.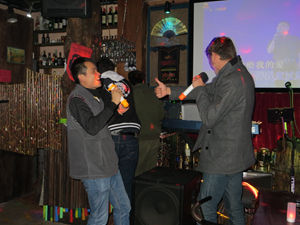 Bamboo Rafting
Bamboo rafting is a great, relatively inexpensive way to go out and float along some amazing scenery for a few hours. The rafts can comfortably seat 6 to 8 people and can usually be bargained down to about RMB 100 for an hour or two. Some of the most beautiful sections of this region are along these amazing rivers; it's often a fantastic way to go out and enjoy a sunny afternoon.
Hiking
Considering the beautiful surrounding landscape, hiking is always a popular option in Yangshuo. Right from the edge of the town, there are several different hikes that take you right to the top of some of the hills hanging over the town. From the tops of these hills there are some spectacular views. Out in the countryside, there are also many great hikes that will take you through farms, villages, and along rivers.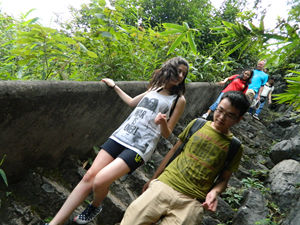 Biking
Even if you don't own a bike, biking is an incredibly cheap and fun way to go spend a day in Yangshuo. Renting a bicycle for a day should only cost somewhere between 5 and 10 yuan, and it will provide you with a wonderful day of exploring the region around Yangshuo.
West Street
West Street is essentially downtown Yangshuo. It provides hotels, dining, shopping, outfitters, and nightlife to the tourism industry in Yangshuo. Since a wide number of the tourists are actually foreigners, West Street provides a comfortable variety of western style restaurants and bars. West Street is a popular place to go for a nice western-style meal, or go to bars and interact with some fellow travelers.
Sightseeing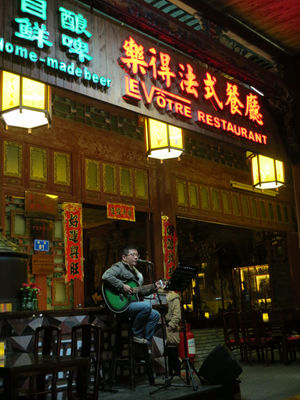 The opportunities for sightseeing are endless, but here are the top places to check out:
TV Tower: There is a 30 minute hike up to the TV tower on top of one of the hills over Yangshuo; it's a popular place to go watch a sunrise or sunset over the town.
Moon Hill: About 5 kilometers out of Yangshuo, Moon Hill is a famous arch that sits at the very top of the hill. Upon arrival, you can hike up to a point where you can actually stand inside of the arch.
Li River in Xingping: The section of the Li River that flows by Xingping is the exact location of where the image on the back of the 20 yuan note was taken; great place for a bamboo boat ride.
Longsheng Rice Terraces: About a 4 hour ride out of Yangshuo, but a very beautiful mountainside of rice terraces that are inhabited by various farming villages. The villages provide very basic accommodations to backpackers passing through.