FAQ's
Classes
Can I join any course or program at any time? Are there any holidays when the school will not provide lessons?
Our courses and programs start on any Monday of the year. If you take a specialized course, then the course starting date is even more flexible.
Please note, that lessons will not take place during Christmas Day (December 25th) and Chinese New Year (including Chinese New Year's Eve and first day of Chinese Lunar calendar). However, when these holidays fall on weekdays, these lessons are replaced with various cultural activities where all students are very welcome to participate.
Holidays for the year 2015 to 2018:
| | | | |
| --- | --- | --- | --- |
| 2015 | Feb. 17 Tuesday afternoon | Feb. 18 Wednesday | Dec. 25 Friday |
| 2016 | Feb. 7 Sunday | Feb. 8 Monday | Dec. 25 Sunday |
| 2017 | Jan. 27 Friday afternoon | Jan. 28 Saturday | Dec. 25 Monday |
| 2018 | Feb. 15 Thursday afternoon | Feb. 16 Friday | Dec. 25 Tuesday |
What classes are offered?
We have a comprehensive course that teaches the standard fundamentals of Chinese, an HSK preparatory course that prepares students for the HSK exam, and a specialized course that allows students to learn Chinese on a customized schedule.
What is the HSK?
The HSK (HanyuShuipingKaoshi) is China's standard exam to measure Chinese fluency. Fluency measurements are divided into six subsequent levels (6 being completely fluent in Chinese). The HSK is often the standard certification required by businesses and institutions to determine one's proficiency in Chinese. See HSK course
Which level of class will I be placed in?
If you are not a complete beginner, then shortly before start of the course, we will arrange a brief placement test, usually on Skype, to evaluate your exact level. Then you will be placed in an appropriate class according to your language level. Following table will give you an idea of how the levels are determined.
Levels
What you have learned/achieved
Vocabulary
Level 0-1
1. Total beginners.
2. A few random words.
3. Pinyin and Chinese pronunciation rules
0-50
Level 1
1. Basic topics for traveling or living in China
2. Be able to use Pinyin and engage in simple dialogues with Chinese people
200
Level 2
1. Most of Chinese's basic sentence structures and grammar structures on speaking, listening and reading.
2. Write Chinese radicals and some simple Chinese characters, as well as proper stroke order.
3. Be able to communicate simply and directly on daily topics which they are familiar.
500
Level 3
1. A greater understanding of Chinese sentence structures and grammar
2. Different expressions
3. Basic communication regarding tasks in daily life, study, and work. Students traveling in China will be able to handle most communication tasks they encounter.
800
Level 4
1. Words and phrases regarding Chinese culture
2. Basic Chinese idioms
3. A basic understanding of Chinese history
4. Be able to discuss a wide range of topics with native speakers.
1500
Level 5
1. A deeper understanding of Chinese history, including famous Chinese events and famous Chinese people
2. A deeper understanding of Chinese idioms and Chinese customs
3. Be able to read Chinese newspapers and magazines, appreciate Chinese films and television, write and deliver full speeches, and communicate with Chinese people at a normal speed.
2500
Level 6
1. Chinese policies and economy
2. Lessons on ancient Chinese poetry and classical Chinese masterpieces
3. Chinese literature
4. Native speaker's level of listening and reading comprehension and be able to express fluently in written and oral Chinese.
5000
Do I need previous Chinese language experience?
No you don't! You can begin any of our classes at ANY level of experience. We will place you within a class or create a class that fits your particular experience level.
How big are the classes?
Classes are 2-4 students in size.
What are the daily and weekly schedules like?
The Chinese Academy operates Monday – Friday with a maximum of six 45 minute lessons a day (3 in the morning and 3 in the afternoon). Morning lessons last from 9:00am until noon and afternoon lessons last from 2:00pm until 4:35pm. There are ten minute breaks between each lesson, and the school takes a two-hour lunch break between morning and afternoon classes. See timetable
What is the difference between intensive and standard course-loads?
With the standard course-load, students will take three lessons a day (either in the morning or afternoon), while intensive students take will all six lessons each day.
What qualifications do the teachers have?
Our teachers are all certified language teachers with a minimum of the following qualifications
bachelor's degree in teaching Chinese as a foreign language
prior Chinese language teaching experience
Can I receive extra help with my Chinese outside of my class?
Yes, we provide a free tutoring option for students outside of class called the language partner program. This program places Chinese language students into pairs with our native-Chinese students in the English language course, for a daily one-hour sessions (or whatever you and your language partner decide upon). During these organized sessions, students will help each other improve in the language that they are studying.
If the language partner program feels insufficient, then we'd be happy to organize a specialized class for you that guarantee one-on-one lessons at the times that you choose. Please contact us for the price for one-on-one specialized course.
Travel and Visa
What visa should I get?
It is okay if you attend our courses/program with a visa you have already gained, for example, tourist (L) visa, business (F) visa or residence permit.
We are also able to offer visa application documents to assist our students with getting a student (X) visa. See application process for details.
How can I get to Yangshuo?
If you are outside of China, fly to one of China's larger cities (Hong Kong, Guangzhou, and Shenzhen are the closest to Yangshuo). From these locations, there are frequent connecting flights to Guilin's airport (KWL).
Within China, there are trains that will depart from major cities, pass through smaller cities, and arrive in Guilin. From Guilin, there are frequent buses that will take you straight to Yangshuo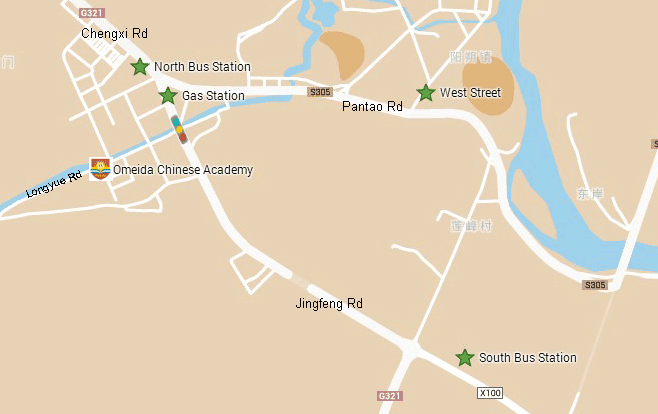 Please find Yangshuo on the map of China: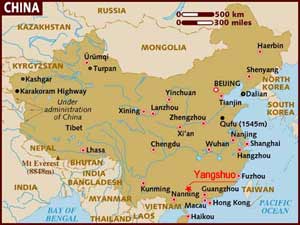 From Guangzhou, Shenzhen, and Nanning, there are buses that will commute directly to Yangshuo. See location
Town of Yangshuo
Is Yangshuo a safe town?
Yes, Yangshuo is a very safe town. However, a little extra caution may be necessary late at night, but in the end, Yangshuo remains a relatively small town that is pretty well protected and is safe for tourists.
Do the local residents speak Mandarin Chinese?
The local residents in Yangshuo all speak Mandarin. Though there is a native Yangshuo dialect, the town has enough tourist traffic that everyone is perfectly used to conversing in Mandarin. Outside of our campus, there shouldn't be any local language limitations that prevent you from practicing your Chinese.
What type of weather does Yangshuo have?
Yangshuo has a temperate climate throughout most of the year. The summers get quite hot and have occasional heavy rains. In the fall, Yangshuo nights become a little cooler but the days are very comfortable. Winters are significantly cooler from summer and Yangshuo will have somewhat rainy weather. In the spring, Yangshuo may have occasional rainfall, but the weather will warm up considerably.
School, Accommodations, and Facilities
Is Omeida a certified professional training institution?
Yes, it is. Omeida Language College was established in 2001. It's licensed and fully-recognized by the government. Please see our licenses from government.
What does the standard room include?
air conditioning and heating
private bathroom with sink, shower, toilet, and water heater
internet access
twin beds with sheets and pillow
desk and chair
not included: toiletries, toilet paper, etc.
You have the choice to share the twin bed room with a native Chinese roommate.
What if I want my own room?
Private rooms are available with all of the previously mentioned amenities for an additional RMB400 per month.
How close are the student dorms to campus?
Student dormitories are less than a 5 minute walk from the actual campus.
Volunteering
What types of work do the volunteers do?
Volunteers tutor English language students for one or two hours each day (between 5-6pm and/or 7-8pm) as well as help out with Thursday night social events. Volunteers may also propose different volunteering options which the school may approve of if the work seems fitting.See volunteer program
Payment
What costs do I pay?
Initial USD 200 deposit: confirms you will be attending Omeida and reserfves your place.
Tuition fees: varying by course type, course-load, and accommodation preferences.
How can I pay?
The initial deposit must be paid in advance to reserve your course, which can be paid via PayPal, wire transfer, or Western Union transfer. See payment information